MAX PULSE
For Health and Wellness Professionals
An FDA Cleared compact device for assessing Arterial Stiffness, Peripheral Circulation and Patient Stress Score. Ideal for Wellness Centers, Health Coaches, Chiropractors, Acupuncturists, Fitness Centers, Gyms and Fitness Centers.
The 3 minute non-invasive test gives the patient a score for Arterial Flexibility and Stress.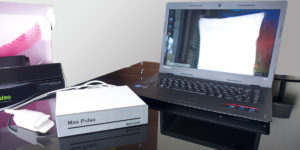 Patient motivation can change dramatically when they realize they are at risk of heart attack or stroke. And stress scores can be used to encourage treatment and also show treatment effectiveness.
The personal health status of a patient is objectively defined by an in depth detailed mathematical analysis of the Autonomic Nervous System and the Peripheral Blood Circulation.
HRV (Heart Rate Variability) has been shown to be a general health indicator in many published studies. The APG (Accelerated Plethysmograph) waveform has been shown to be an indicator of cardiovascular health.
The data that is obtained from the HRV and APG waveform allows various aspects of health and perceived health problems to be clarified and evaluated. The areas of diagnosis included are physiological energy, pain, emotional reaction, sleep, social isolation and physical mobility.
For more information on the Max Pulse- MaxPulseDevice.com and our authorized USA Dealer LongLifeCardio.com
SA-3000P 
Top of the line Cardiovascular Screening
Autonomic Nerve Balance (HRV)
Prediction of cardiovascular disease.
Check the Autonomic nerve balance status.
Evaluation for the response of body caused by the stress.
Peripheral Blood Circulation (APG) 
Peripheral Blood Circulation Disorder
Early prediction and aging processing of arteriosclerosis
Evaluation for the effectiveness and treatment with the medication
FEATURES
Autonomic Nerve Function Test – HRV
Peripheral Blood Circulation Test – APG
RSA Training
Automatic Diagnostic Result
LCD Monitor Tilt & Touch Input Function
Standard Reference for Asian/Western
Viewer Program available
Sending the Result by e-mail
Use of PPG sensor
SMART PULSE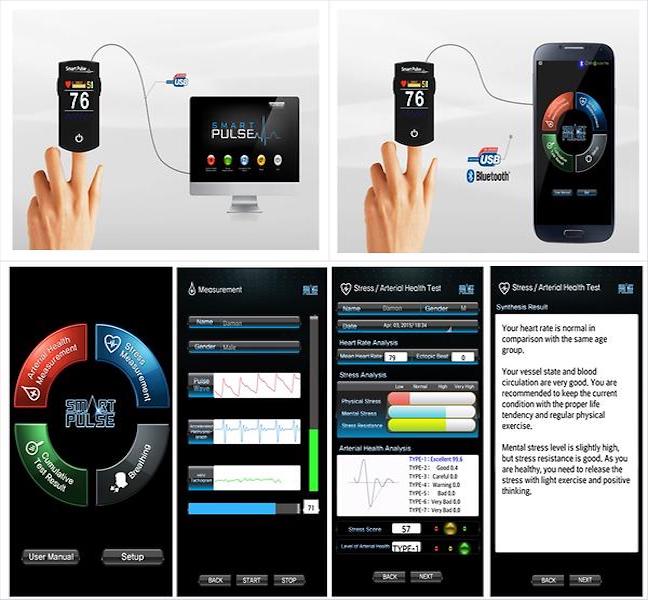 The Smart Pulse is a portable and innovative patented diagnostic device that can be used in the convenience of your home or office, to run a quick health check-up on yourself. Smart Pulse enables you to understand how much progress you have made with your current lifestyle.
All you need is 2 minutes 30 seconds, the Smart Pulse and a connection to your mobile devices to get your personal diagnostic result ready.
Periodic health checks are a good way to stay healthy. Besides the obvious eating healthy and regular exercises, getting periodic health check sessions is another step to take on the path to healthy living.
FEATURES
1. Stress Test
– Mental & Physical Stress
– Stress Resistance
– ANS (Autonomic Nervous System) Function
– HRV (Heart Rate Variability)
2. Arterial Health Monitor
– Blood Circulation
– Blood Vessel Aging & Health Condition
– Arterial Elasticity / Peripheral Elasticity
3. Breath Training
– Reducing Stress
– Improving the ANS Function
– Maintaining Balanced Emotional State
4. Smart Test Report
– Smart & Easy Reading of the Report
– Cumulative Test Result
IRIS-Q – Thermal Crowd Screening
The high-accuracy camera of the Iris-Q measures skin surface temperature as individuals walk through your entrance. Its wide angle, 
 45-degree lens works continually, in real time, as people pass by.
Temperatures above your predetermined threshold are immediately detected and an alarm sounds on the computer, along with a bright red warning sign.
The system automatically saves the image of the individual with the high temperature. This enables you to easily locate and further screen that person without causing any concern.
This non-invasive, non- contact method of screening large groups of people makes it easy to detect those with an elevated temperature, with minimal disruption.
Features
Fast & Accurate Temperature Measurement
Designed for high traffic volume areas and crowds
Non-invasive and discreet
Automatic Warning Notifications with images
Dual Camera (Infrared Thermal Camera + CCD Camera)
Face and Thermal recognition in one display
Lower False Positive Warning Rate based on AI algorithm
IRIS-XP – Infrared Body Imaging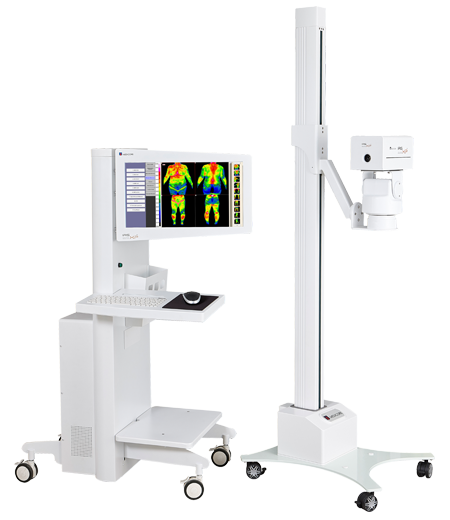 IRIS XP is a medical infrared thermograph system to visualize pain or tumors in color imaging by detecting the infrared ray from the human body.
Infrared thermography is a technique used for detecting the infrared energy that is emitted from various objects. The sensors used in this method can convert infrared energy signatures into temperature to create a telling image of thermal anomalies.
FEATURES
Full Digital Camera Link method for the medical images.
Saving the real time video and real temperature of patients.
Possible to take the images in a narrow distance easily with the Digital Zoom function.
PACS / EMR Compatible.
High Resolution Color
Provide the high-resolution image to detect the difference of temperature under 0.07℃.
Clinical Guide
Provide the function of checking and compare the clinical cases by diseases.
Automatic Temperature Coloring
Function of automatic temperature editing without any separate work by the user.
Click Here for the IRIS XP Thermal Crowd Scanning Version
Medicore Medical Customer Service and Information:  210-903-9935
Or Fill in the Form Below and we will contact you.
Contact Us
Please let us know how we can help you.